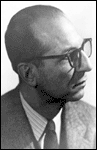 God is free to work graciously in the world wherever and however possible — that is the essence of Joseph Sittler's thinking about Nature and Grace. In his own words: "The thrust of the redemptive action of God is into the structures of mankind, society, the family, and all economic orders. The scope of that redemptive activity ... can clearly be no more restricted than its originating action" (The Structure of Christian Ethics, reprinted 1998, Westminster John Knox Press, p. 65). He was convinced that if the Christian faith is to address life in the world today, "nothing short of a radical relocation and reconceptualization of the reality and doctrine of grace" is required (Essays on Nature and Grace, 1972, p. 6). This conviction is perhaps the fundamental theme of all that Sittler wrote. It undergirds his thinking about ecology, preaching, literature and the arts, and theology as a whole.
A sample of materials on Nature and Grace available from the Archives
Called to Unity (To the World Council of Churches, New Delhi) Also in text form, Audiotape (11/2/61)

The Doctrine of Grace (The Earle Lectures), Audiotape (1968)

Essays on Nature and Grace, by Joseph Sittler. Fortress Press,1972, Book

Evocations of Grace: Writings on Ecology, Theology and Ethics, edited by Steven Bouma Prediger and Peter Bakken. Eerdmans, 2000, Book

The Greening of Theology: The Ecological Models of Rosemary Radford Ruether, Joseph Sittler, and Jurgen Moltmann, by Steven Bouma-Prediger. Scholars Press, Atlanta, 1995, Book

The Presence of Grace in Redemption (Concordia Summer Theological Conference, Minnesota), Audiotape (7/27/82)






What's New?


Free Downloads!