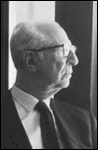 Sittler spent his entire personal and professional life as a deeply committed Lutheran. He wrote and preached about the important themes of Lutheran theology. At the same time, he did more than perhaps any other modern Lutheran theologian to address the broad issues of ecumenism and Christian unity. He is widely known for the keynote speech, "Called to Unity," that he delivered at the Third Assembly of the World Council of Churches, held in 1961 in New Delhi, India.
Here he argues that God calls the churches to unity, and that "this relentless calling [that] persists over and through all discouragements ... is what engendered the ecumenical movement among the churches, and steadily sustains them in it." This speech was printed in countless publications around the world such as the South East Asia Journal of Theology.
During his career Sittler served on many ecumenical committees (with both the World and the National Councils of Churches, for example), preached and spoke to many ecumenical audiences, and regularly attended ecumenical events. He wrote for ecumenical publications such as The Ecumenical Review and the Christian Century. He was often invited to address gatherings of other denominations and to write for their publications. He gave important speeches at non-denominational schools, such as the Lyman Beecher Lectures at Yale Divinity School in 1959. Sittler had a particular interest in Eastern Orthodox thinking, which contributed significantly to his own theological stances. This was a theme in his New Delhi speech and other works.
Scholars and preachers of other religious communions attributed to Sittler significant influence on their own development. For instance, in Preaching: the Art and the Craft, the Catholic scholar Walter J. Burghardt, S.J. devotes several pages to Sittler's influence.
Sittler had the same impact on many of his students (and fellow teachers) at the non-denominational Divinity School of the University of Chicago.
A sample of materials on Ecumenism / Unity available from the Archives
Called to Unity (To the World Council of Churches, New Delhi) Also in text form, Audiotape (11/2/61)

Ecumenism: Brief reflections on the Lutheran-Roman Catholic Dialogues, with Father Jerome Theisen and Joseph Sittler, Audiotape (date unknown)

Message to Our Malaise (Fourth in the "Message to Our Malaise" series, Princeton Theological Seminary), Audiotape (7/20/61) available online






What's New?


Free Downloads!