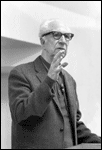 Sittler was fascinated by every new development around him — scientific, technological, political, social, artistic, cultural. Though he found many of his own models in the past, he constantly worked to relate them to our life today (or, precisely, his own day). In Gravity & Grace (p. 95) he writes that "God is interested in a lot of things besides religion. God is the Lord and Creator of all life, and there are manifestations of the holy in its celebration or in its repudiation — in every aspect of the common life."
In one of his well- known essays he describes an experience from the 1960s. He and his son watched the first moon shot together on television. He writes, "I was simply stunned by the magnificence of this accomplishment...." (GG 98) He never lost his sense of wonder and awe at the development of the new. At the same time he constantly warned against the improper use of the new. He particularly disparaged careless use of technical/industrial development that resulted in despoliation of the environment.
It is crucial, Sittler urged, that the church in the modern world learn how to relate to that world. He writes, for example, about soap operas. "For all their phoniness," [they] "say something about our culture.... A necessary address by the Christian gospel to the problems that the soap opera dramatizes must probe deeply into the loneliness, guilt, betrayal, and grief that this kind of program consistently portrays." (GG, p. 86)
A sample of materials on Contemporary Life available from the Archives
God, Grace, and the Libido (From The Lutheran magazine), Text Material (11/18/64)

Reflections on the Papal Visit (Tape # 1 of "Presentations to ALC Clergy"), Audiotape (10/79)






What's New?


Free Downloads!