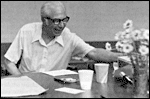 Though Sittler's writings on the arts are scattered and short, they are among his most creative and influential ventures. Though he never developed a "system," regarding the arts, one can be pieced together from his writings on the topic over the years.
There is a skeletal definition of art in an early Sittler essay: "The Religious Significance of Bach's Music." Here he writes that a human being's "artistic productions" are "the reaction of a human being's spirit toward, or an attitude of a human being's spirit before, all Reality." The quote can be fleshed out by adding a phrase that appears in many of his writings: "in the language of the imagination." For Sittler the language of the imagination could be words, musical notes, brushstrokes, dance steps, woven cloth, or stainless steel. That depends on the language the artist's imagination speaks.
Sittler's enthusiasm for the arts drew no distinction between "popular" and "high" art.
He praised novelist Joseph Conrad, but he also liked the popular works of Kurt Vonnegut. He loved Bach and Beethoven — and also jazz. Great art of any sort, he believed, evokes feelings of awe and reveals God's truths.
Sittler advocated the use of the visual arts and fine architecture as expressions of religious belief. He asserted that poetry and literature are obvious resources for preaching. In general, he argued that the contemporary church does far too little to incorporate the arts (other than music) into its worship and community life.
A sample of materials on The Arts available from the Archives
Reflections on J. S. Bach (Carleton College, Minnesota), Audiotape (4/21/74)

University District Lectureship: Contemporary Witnesses To Damnation (Seattle), Audiotape (4/6-9/59)






What's New?


Free Downloads!