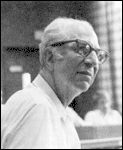 Echoing G. K. Chesterton, Joseph Sittler said, "We must not love our country for a reason. We should love our country because she is our country, our place." Sittler was a thoughtful observer of the American scene, commenting on current events through the lenses of our history and our culture. He lived during a time of rapid change, remarkable discoveries, and agonizing conflicts, and understood the effect these things had on the human mind and spirit. In speaking about some of the problems facing twentieth century Americans — environmental degradation, the proliferation of nuclear weapons, racism, the neglect of the poor and disenfranchised — Sittler often quoted these lines (with various attributions), " We have been dispatched by God and by history on an errand into the wilderness to create in this place a city on a hill, a light in the wilderness," and observed that we have betrayed this notion as a people.
A sample of materials on The American Scene available from the Archives
Bicentennial Reflections (Augustana Church, Chicago), Audiotape (7/4/76)

Time, Space, and the American Experience, Audiotape (8/13/69)






What's New?


Free Downloads!